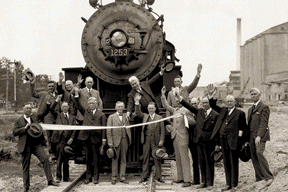 Ash Grove Cement Company has built a successful business by helping to build America ?literally ?from the ground up. Founded in 1882, Ash Grove has thrived over the years because of its unceasing commitment to innovation, product dependability and quality customer service. The wisdom of this values-based approach is demonstrated by the fact that Ash Grove Cement is now the leading American-owned cement company in the United States.
Ash Grove Packaging, a subsidiary of Ash Grove Materials Corporation, has helped bring the company's products to a broader range of loyal customers. From our early days of supplying cement in simple hand-sewn sacks, we have grown into an organization that today offers a full array of products designed for commercial, residential and industrial use. This same values-based approach inspires our goal of becoming the premier packager of cement products in the United States.
We take pride in our work, our products and ?most of all ?our people. Ash Grove employees know their efforts contribute to a magnificent mission: creating structures fundamental to America's economic vitality and quality of life. We recognize the responsibility and the privilege of this pursuit. We take it seriously.
How so? By putting our customers?needs first. Our packaged cement mixes and related building materials are crafted using the highest standards. We collaborate with builders, contractors, engineers, municipalities, retailers and homeowners to offer the right products for the right purposes ?with results that satisfy and endure.
As we plan for a strong future, Ash Grove is leading the way toward achieving an environmentally responsible American manufacturing culture. We're the only U.S.-based cement company to join the World Council for Sustainable Development in its Cement Sustainability Initiative. Our intention? Strong environmental stewardship, purposeful social responsibility and lasting economic prosperity.
At Ash Grove, we believe in the power of compounding positives. More innovation, more care, more production can and do lead to increased overall value, improved communities and better lives for our customers, our workers and our nation.
It's the American Way - it's the Ash Grove way.